About MARLO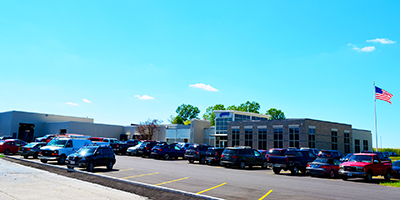 MARLO, located in Racine, Wisconsin on the shores of Lake Michigan with easy access to metropolitan Milwaukee and Chicago, was founded by Fred and Mike Glines in 1973. MARLO is a privately held family corporation staffed with talented individuals with a breadth of experience in the water treatment industry.
MARLO's initial thrust was in the domestic water conditioning dealer marketplace. This activity was supplemented by producing residential equipment for the overseas market, particularly England, France and the Scandinavian countries.
In order to present a full line business profile to its customers, MARLO created a Commercial and Industrial Division in 1976, offering a line of light and medium commercial softeners and filters. This move necessitated the acquisition of a cadre of Manufacturer's Representative throughout the United States and in several overseas markets to call on Mechanical Contractors, Specifying Engineers, Architects, etc. Over the years MARLO's C&I water treatment equipment has been installed in hundreds of hospitals, schools, factories, laundries and institutions. Numerous accounts include names in the Fortune 500 list.
In 1977 MARLO expanded its manufacturing and office space by moving into a new plant located on four acres of land in Racine.
In 1980 MARLO acquired a proprietary water conditioning control valve. Water softeners and filters so equipped sold through MARLO Representatives to Wholesale Plumbing Supply houses. A second state of the art proprietary valve system was added to MARLO's product line in 1989. During this time MARLO also developed the two-in-one combination softener and iron filter and a super high efficiency conditioner.
MARLO began the Nineties by doubling its production and warehouse facility and constructing 2000 square feet of additional office space. Expansion of the office space allowed MARLO to establish in-house; the MARLO Water Academy where Representatives, Dealers and Servicemen are instructed in the "Fundamentals of Water Treatment" by a staff of experienced instructors.
In the late Nineties there were major acquisitions and upheavals in the water treatment industry. This has given MARLO the opportunity to broaden our customer base, expand our product line, and hire talented and experienced water treatment personnel. With these changes MARLO has experienced a significant growth in sales, especially in the Commercial and Industrial Division.
MARLO completed two more expansions of the facility in 2000 and 2016 with each project subsequently doubling the manufacturing space with state-of-the art high-bay construction, complete with a three (3) ten-ton overhead cranes and the latest heavy duty material handling and production equipment.
The entire MARLO campus now occupies a total size of 75,000 square feet.  An increasing worldwide demand for speedy production of a full line of reliable commercial and industrial water treatment equipment continues to provide MARLO with the opportunity to expand, add highly qualified personnel, and enhance our engineering capabilities.
This latest expansion underscores commitment to MARLO's industry promise: Quality Products for Quality Water
MARLO Associations
We also have affiliations with the following organizations through our regular participation in their conventions/trade shows.