Employment Opportunities
Our continued growth in the water treatment equipment industry allows us to grow our talented team of engineering, manufacturing, and business professionals.
Contact us now if you are ready to develop your career at MARLO. We would love to hear about YOU!
Our CULTURE
We believe in the power of diversity and inclusion, in mutual respect and support. We manage our workplace to encourage creativity, flexibility, acceptance and fun. We manage our work ethic so we can meet our company goals while providing our customers with quality products and service. We are committed to creating a respectful workplace, characterized by courteous, honest, direct and relevant communication with each other, our customers and our vendors. A workplace at which you can feel at home and part of our FAMILY.
Our VISION
"Create an atmosphere to 'inspire' and 'be inspired'…"
— Mike Glines, Founder and Chairman of the Board
The world around us is changing constantly. To keep up with innovation and emerging customer needs, you have to be daring. Do you dare to challenge us on behalf of our customers? We are looking for daring minds.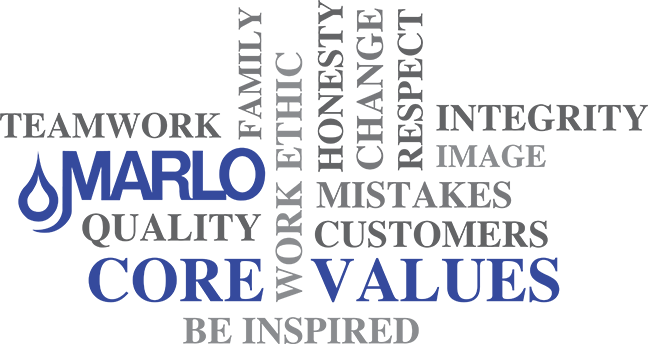 Career DEVELOPMENT
At MARLO, you develop and grow by moving. A successful career involves having a variety of positions at different functions and within different departments. Your opportunities are limitless. You choose your path and make deliberate choices to drive your career at MARLO. Your SKILLS matter to us and so do your GOALS.
WHO are we looking for?
We are seeking team members who have experience and interest in the following:
Engineering (Mechanical, Electrical, Chemical)
Computer Aided Design (CAD)
Electrical Assembly / Panel Builders
Mechanical Assembly / Pipe Fitting
Quality Control / Equipment Testing
Logistics / Freight Coordination
General Office / Clerical / Data Entry
Human Resources (HR)
Technical Sales
Inside Sales Coordinators
Field Service Technicians
We PROVIDE
Energetic, motivated and flexible working atmosphere
Extensive orientation program
Comprehensive occupational health care
Quarterly Bonus Profit Sharing Plan
Paid Time Off
Retirement Savings Program
Tuition Reimbursement Program
Volunteer and Give Back Program
Company Events and Celebrations
Flexible hours
Modern workspace, equipment and tools and a great environment to work in
Room to develop yourself according to your own interests