Seeking Technical Service Specialist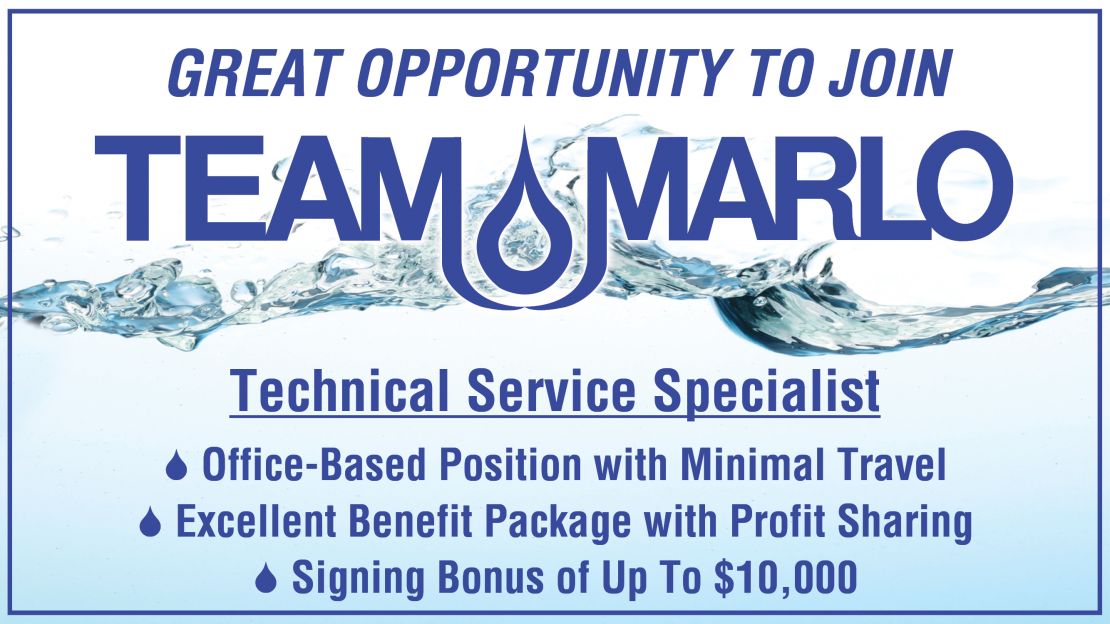 TECHNICAL SERVICE SPECIALIST
Marlo Incorporated, a leading designer and manufacturer of high quality water treatment equipment and systems, is seeking an experienced and highly motivated individual to join our Technical Service Department. We are located in Racine, Wisconsin and in close proximity to the Milwaukee metro area and the northern Chicago suburbs.
The primary responsibility will be in the handling of technically oriented customer support issues as they relate to our product line of water treatment equipment including water softeners, water filters, reverse osmosis systems, and deionization systems. Essential duties will include the acceptance of customer phone inquiries, trouble-shooting, preparation of correspondence such as solution recommendations, parts price quotations, conducting customer training sessions, and field start-up of equipment. The participation in internal projects such as product development/documentation and quality improvement will be assigned as required. Familiarity with common industry components from such manufacturers as Fleck/Pentair, Clack, Aquamatic, Allen-Bradley, HACH, Grundfos, Goulds, GF Signet, the major ion exchange resin and RO membrane manufacturers is desired.
Qualified candidates should have at least 5 years of technical service or related experience in the water treatment equipment industry with familiarity in both residential and commercial/industrial applications. Occasional overnight travel (15-20%) is required. A competitive base salary, signing bonus, quarterly Profit Sharing program, and attractive benefit package will be offered to the most qualified candidate.
Submit cover letter, resume, and salary history to:
Marlo Incorporated
Attn: Steve LaMere, President / COO
PO Box 044170
Racine, WI. 53404
slamere@marlo-inc.com